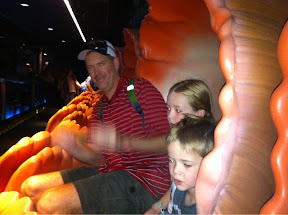 After our late night, we let the kids sleep in & hit Epcot at about 10:30. We loved being able to walk! Greta loved the Nemo ride (me too) & we all loved Talking with Crush.
Nick got fast passes for test track (roller coaster) for everyone. We rode it twice yesterday. Nick & Ella rode mission space (Ella liked that more than nick!). We had lunch, saw lots of characters (Greta was the only one who wanted to wait in line for autographs).
We were all dragging today. An afternoon ice cream break was just what the doctor ordered.
Tomorrow I will remember to pack wipes! Six hours flew by fast! Our only misstep was choosing to fast pass test track instead of soarin'. That will be our first stop next time!
- Posted using BlogPress from my iPhone