I used up a Groupon tonight at
Jane Butel's
Cooking Demonstration. My friend Jodi & I braved the winter storm in our neighborhood to get to class. It was strange that 2 minutes from our house, the roads were clear and the wind stopped blowing.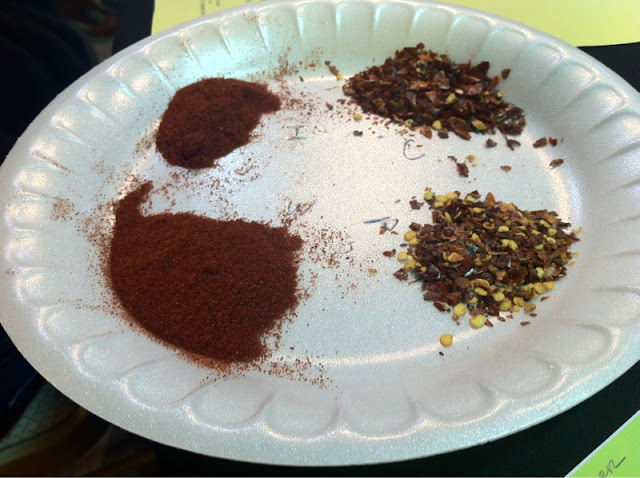 Southwestern cuisine is still very novel to me. I tried the mild chili powder & met my match (she said it was basically paprika). Her husband sprinkles chili powder in his oatmeal. She has former students who carry green chili powder with them when they travel in case they encounter bland food. She claims that eating chili powder at least 20 days a month can lead to weight loss (perhaps because you kill your taste buds).
At this point in the night, my sister called to say they were about two hours away (they are driving from California with their dog).
She's a fun story teller but at this point in the class, I started to get a bit self conscious taking photos. Our traditional menu included
Special, Fiesta Green Chile Chicken Casserole
Red Pepper and Endive Salad with Salsa Dressing
This is a bizcochito = the state cookie (does YOUR state have an official cookie?) that includes anise and cinnamon. It was a fun night - great break from the holiday bustle. On the way home as Jodi & I were brainstorming ways to attend a weekend cooking retreat, my sister called to tell me that all roads into Albuquerque had been closed. I could hear the panic in her voice, but was powerless to do anything while driving. I made Jodi stop telling me a story about a family that got lost for almost a week in a similar situation.
By the time I got home, Nick was on the Internet trying to find a hotel room that took dogs. There were no rooms at any inn. After almost an hour, they gave up & were headed back to the truck stop. The thought of them wearing all their clothes to keep warm at night was just a little disconcerting.
I was so relieved to learn that the Baptist Church in town opened their doors to the weary travelers. A later message indicated it was very crowded (and that Tucker was not the only animal in the manger). We will be up early to watch for the news that the roads are reopening. Hopefully the rest of their trip will be uneventful.
-Posted using BlogPress from my iPhone