On Tuesday morning, the girls & I got up uber-early to catch the 7 am shuttle to the Magic Kingdom. I made my reservations for Cinderella's Royal Table in June (5 months before our trip) & that was too late to score 5 spots. So, the boys slept in (though there were plenty of spots for them when we arrived - but I digress).
It was pretty neat to see the park so empty. We took some photos, but we were all a little puffy from our decadent Monday & lack of sleep.
The girls wanted to get gussied up for our meal in the castle (and they were just a little disappointed that I 'forgot' to pack a dress for breakfast).
Even though you are eating at Cinderella's 'house', she doesn't join you for the meal. Though she did a splendid job of chatting up the kids during the meet and greet.
We were so excited for Greta when we saw Snow White. She was thrilled to meet Sleeping Beauty (aka Aurora) again because we forgot the autograph books on Friday night. This access was worth the admission price to the breakfast (2 dinner credits per person).
Greta was a little out of touch with her Disney princesses! We've since caught her up on some of the classics. Because the girls were either too excited or tired to eat, we were the first people done. The girls scurried to the bathroom to change. Our reservation was at 8:20. We were changed & poised to enter the rides before the 9 am rope drop.
We followed the cast members to the rides and grabbed three fast passes to Big Thunder Railroad (and texted Nick to do the same). After riding the newer coasters, Ella was sure that the railroad was running more slowly than Friday night. It's a good beginner roller coaster. We rode the railroad a few times & splash Mountain once (too slow for me).
Ella wanted to ride Aladdin's Magic Carpets. We arrived just in time to meet Jasmine & Aladdin (Greta didn't know who they were either). The night of the party, we could have met Genie & Abu, but Greta wanted to ride instead of wait in line (don't blame her).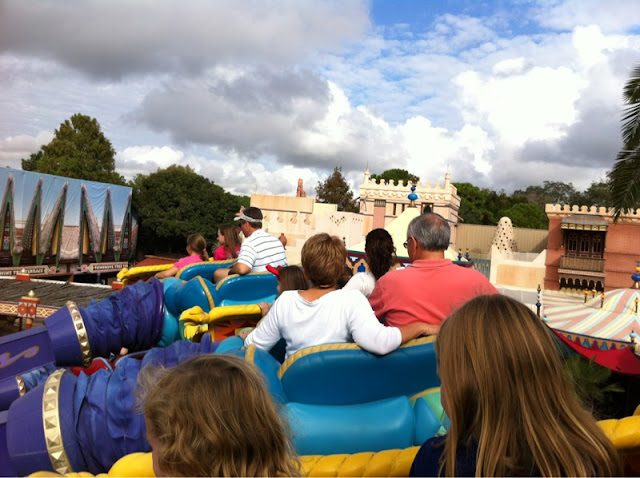 Nick & Charlie hit several rides before we met up. I can't remember why we separated again. Maybe I was going to try to find Rapunzel for Greta. The lines for the fairies seemed long so we didn't stop.
Then, we ran into Peter Pan. Greta has a nervous habit of pulling up her pants when she meets characters.
The line for Rapunzel was ridiculous. I waited in line while Nick took the kids to the Mad Tea Cups. Then, while they colored, he grabbed fast passes to ride Space Mountain.
If we had remembered our autograph books on Friday night, this wait would not have been necessary, but seeing their smiles, it was worth it. They aren't going to be this excited about autographs forever.
Afterward, we hit the Haunted Mansion, grabbed lunch, rode Big Thunder Mountain with our fast passes (oh that line was crazy), saw Mickey's PhilHarmagic (a 'must see'), took turns taking Ella on Space Mountain (one of my favorite coasters - Nick didn't fit on the ride very well), entertained the twins, met Daisy Duck and at 2 pm, grabbed a bus back to the hotel. The kids were ready to swim (I fell asleep by the pool).
For dinner, we caught the boat to Hollywood Studios and ate at the Brown Derby. Another fabulous experience. Though, next time I will eat there for lunch (dinner uses up two dining credits). They have nothing to do with horse racing as Nick thought so don't try to order a Mint Julep.
After dinner we stumbled around for a bit trying to see what had reasonable lines. The kids would have waited in line to meet Phineas & Ferb (but we declined). We ended up seeing Voyage of the Little Mermaid (on our second try). Then, we headed toward the 8:00 showing of Fantasmic! I wish I had realized that the stadium is unbelievably huge & the park is very small. It seemed like we needed to be in line, but really Nick could have taken the kids on another ride while I waited (or joined them). I think everyone got into the show. My cousin Denise suggested that we pack glow sticks. It kept the kids entertained while we waited for the show to start.
It was an amazing show, but not one I will worry about catching next time we visit. After the show, we split up. Nick & Ella rode coasters. I took the twins on Tower of Terror one last time & then we SPRINTED to the other side of the park to meet Mater & Lighting McQueen.
We were the last family admitted for the night. Greta is cuddling up to Lighting McQueen here, but it was cute to see Charlie run his hand along the car as we left. He's a huge Cars junkie. The twins searched high & low for abandoned strollers on the way out of the park so that they didn't have to walk. We were all tired! Talk about a full day of adventure!